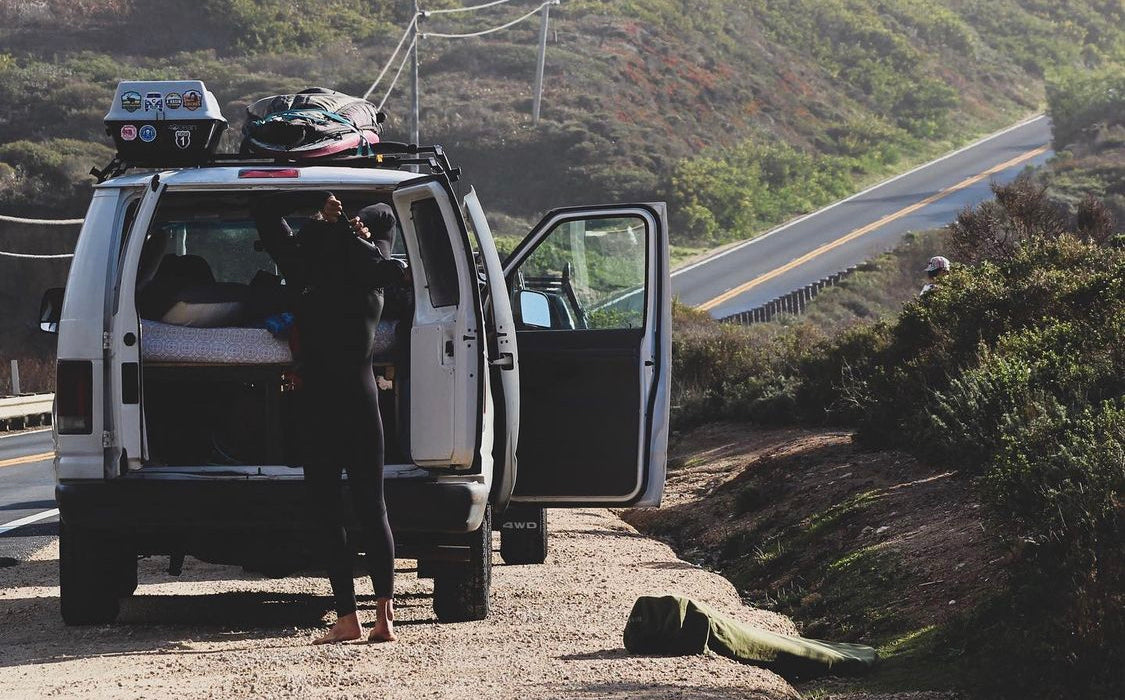 Fall Surf Travel 101: The Best Surf Road Trips
Fall Surf Travel 101: The Best Surf Road Trips During the Most Underrated Surf Travel Season
It doesn't get much better than fall for surfers. Each year, we spend our summers in board shorts chasing warm water swells around the world and praying for the occasional powerful south swell or hurricane to send pumping waves to our home breaks. During the winter, we're blessed with hardy north swells that keep us busy during the coldest months of the year. Fall is the best of both worlds. North swells begin to form in the Arctic waters in September, October, and November, while warm summer weather and friendlier water temperatures linger. Autumn brings a much-needed reprieve to the coasts as tourists leave, kids go back to school, and the chaos of summer gives way to the serenity of fall. As much as I love summer surf trips to the tropics, something about a fall road trip to pumping waves close to home just feels right. In the spirit of adventure, we've compiled our favorite fall surf road trips that combine scenic drives, pumping waves, and a guaranteed good time. Continue reading below for Fall Surf Travel 101: Where to Score During the Most Underrated Surf Travel Season.
Big Sur to San Francisco, the Ultimate Highway 1 Surf Road Trip
As Highway 1 weaves and serpentines along Central California's rugged coastline, it bypasses some of the country's most authentic surf towns, world-class waves, and the region's best-kept secrets. The drive alone makes the road trip well worth it. Big Sur's natural beauty is indescribable, and if you're lucky enough to score while in the park, you'll likely remember that session forever. Santa Cruz and San Francisco have their celebrated breaks, but it's the spots outside of town, along the highway that take a bit of trial and error to truly dial in that make this drive so special. Update your quiver and support local shapers in Santa Cruz, dine and stroll along Fisherman's Warf in SF, and make the most of your time in nature with a breathtaking hike along the coast in Big Sur. Highway 1 is perhaps the nation's most iconic surf road trip.
Faro Pro Tip: 
Travel with your boards on the roof of your rig and save room in your pickup to surf-camp under the radar!

 

Faro Board Bags

 

- created with rugged durability and a muted, understated palette in mind...keep your surfboards safe and tucked away in one of our roll-top designs.
Northern Oregon to the Olympic Peninsula
You could spend a lifetime searching for surf in the Pacific Northwest. Harsh weather keeps the crowds away during colder months. Those willing to brave the elements are rewarded with world-class waves and otherworldly natural beauty along this cold-water surf road trip. The area may be known more for its year-round skiing, world-class climbing, and hipster-saturated cities, but the region is teeming with awe-inspiring waves. Northern Oregon's many sheltered coves and rocky points hold size and break cleanly during the swell-rich fall when early winter storms from Alaska send pumping surf to the PNW. In Southern Washington, miles of long sandy beach breaks with reliable sand bars are perfect for small to medium size swells. As you travel north into the Olympic Peninsula, you'll find sheltered coves, hidden reef passes, and beaches only accessible by miles of trail. The area has its popular and often crowded breaks, for sure, but if you're willing to work for it, you could find yourself surfing alone during the swell of the season.
Vancouver Island in all its glory
Grizzly bears and wolves usually aren't of any concern when beach camping on a surf road trip, they are on this journey. In Vancouver Island, beach camping is as rugged as it gets. The island stretches for hundreds of miles and is full of forested wilderness, reliable sand bars, and an active wildlife population. Pack your bear spray, fins, wax, and passport away in your fin wallet for safekeeping. Then, enjoy the surreal isolation in one of the most remote areas of the world before hitting Tofino and sharing waves with the country's best.
Cape Cod to Nova Scotia
New England's best breaks light up during fall as hurricane season peaks and winter swells begin to trickle down from Canada. Fall and early winter are the perfect time of year for an East Coast surf road trip. Start with the wide-open beach breaks in Massachusetts and New Hampshire before heading to Maine for rocky points and lobster rolls. The gem of the North Atlantic lies over the border in Nova Scotia, where world-class waves peel in relative isolation in chilly waters. Pack plenty of neoprene and keep an eye out for the man in the gray suit.
Faro Pro Tip: Waves may come and go quickly in this part of the country. So, explore the small fisherman towns and local hikes on down days. The Faro Canvas Tote is available to keep all your essentials close by for any adventure!
Kitty Hawk to Cape Hatteras
The East Coasts' lackluster waves can be blamed on the continental shelf, which stretches out hundreds of miles and breaks apart large swells as they approach the Atlantic coastline. The Outer Banks, a system of barrier islands off the Tar Heel State's eastern shore, stretches out like a begging hand desperate for swell and extends to the end of the continental shelf, giving the area the best waves on the entire coast. Once the home of the fearsome pirate Blackbeard, the Outer Banks is now a hub for surfing, kiteboarding, and deep-sea fishing. Take Highway 12 from Kitty Hawk all the way to Cape Hatteras on the end of the Outer Banks. Along the way, you'll find miles of beach breaks and the best barrels to ever grace the East Coast of the United States. A trusty 4x4 and a beach permit will let you drive right on the sand to find a secluded peak. Hurricane season and winter swells transform this corner of Dixie Land into a surfer's paradise.

Faro Board bags are the ultimate surf road trip partner. Whether you're hunting for waves in Baja, Canada, or anywhere in between, our trusty surfboard socks and surf accessories will keep your quiver safe during your adventure.
Photo by Bolster Mckinley