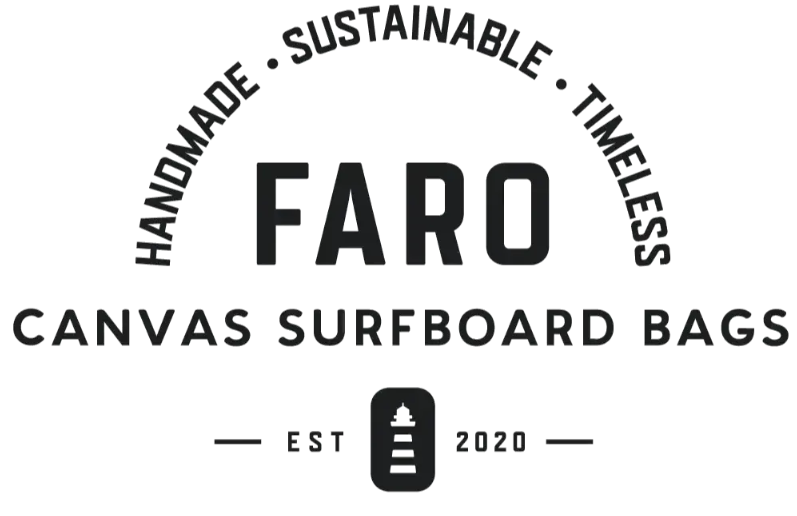 Sustainable Surfboard Bags
Handmade In San Diego, California
Surfboard Bags for any board in your quiver
Sustainably made changing poncho


Rugged, Simple & Easy To Use
" I love the rugged feeling this board bag has, It is easy to use and my boards slide in and out without any problems. Simply the best board bag I have used. I will be picking up another once I get my new board!"
-Rich G
My Favorite Surfboard Cover
"I ordered a bag for storing my surfboard in the bed of my truck. I often throw it back there and try to surf bewtwen jobs. Before my Faro bag my board would get sun baked, scratched and dinged . Now, my board stays protected and is not exposed to the sun. As someone who works with their hands all day I immediately noticed the craftsmanship that went into this product- solid stitching and a simple, functional design. I love my bag and will definitely be ordering another. Thanks Faro!"
-Frank L
Impressive Quality in Material and Fabrication!!
"I have used other brands canvas bags and the two things I immediately noticed, HEAVY DUTY canvas compared to what previously felt like painters drop cloth and the meticulous finishing. Highly suggest picking one up, I think I might be grabbing another or two."
-Sammy v
Only Bag I havent Destroyed
"A really durable board sock - I use when traveling or local. This bag has been on my motorcycle rack, on boats and in the sun in my truck and I'm not worried. The wax doesnt stick to it so it's way easier to slide off and on. Other socks I've used rip on the nose and fins and sometimes I don't use them at all because it's too annoying. That is not the case anymore, thaks Faro!"
-Jimi
5 Stars for Quality And Crafstmanship
"I got a bag for my 8'6 longboard and I am so blown away by the craftsmanship. The material is super durable while still being incredibly soft to the touch, and I love that there is a liner on the nose as well for extra protection. The attention to detail is incredible. Branded tag, quality hardwear & the lining easily all add up to make this the most high quality board bag I've ever owned. Will definitely be buying more of these bags as my quiver grows."
-Sarah K
Small-scale handmade construction, so no detail is overlooked. Giving you a surfboard bag that is made to last.
Utilizing responsibly sourced materials like Hemp, Organic Cotton, Dead-Stock, & Recycled Polyester. Our products aim to be more part of the solution and less part of the problem, without sacrificing quality.
All products we offer aim to have a simple, timeless style with an emphasis on craftsmanship. A product that looks good for a lifetime is just as important as lasting a lifetime.
---