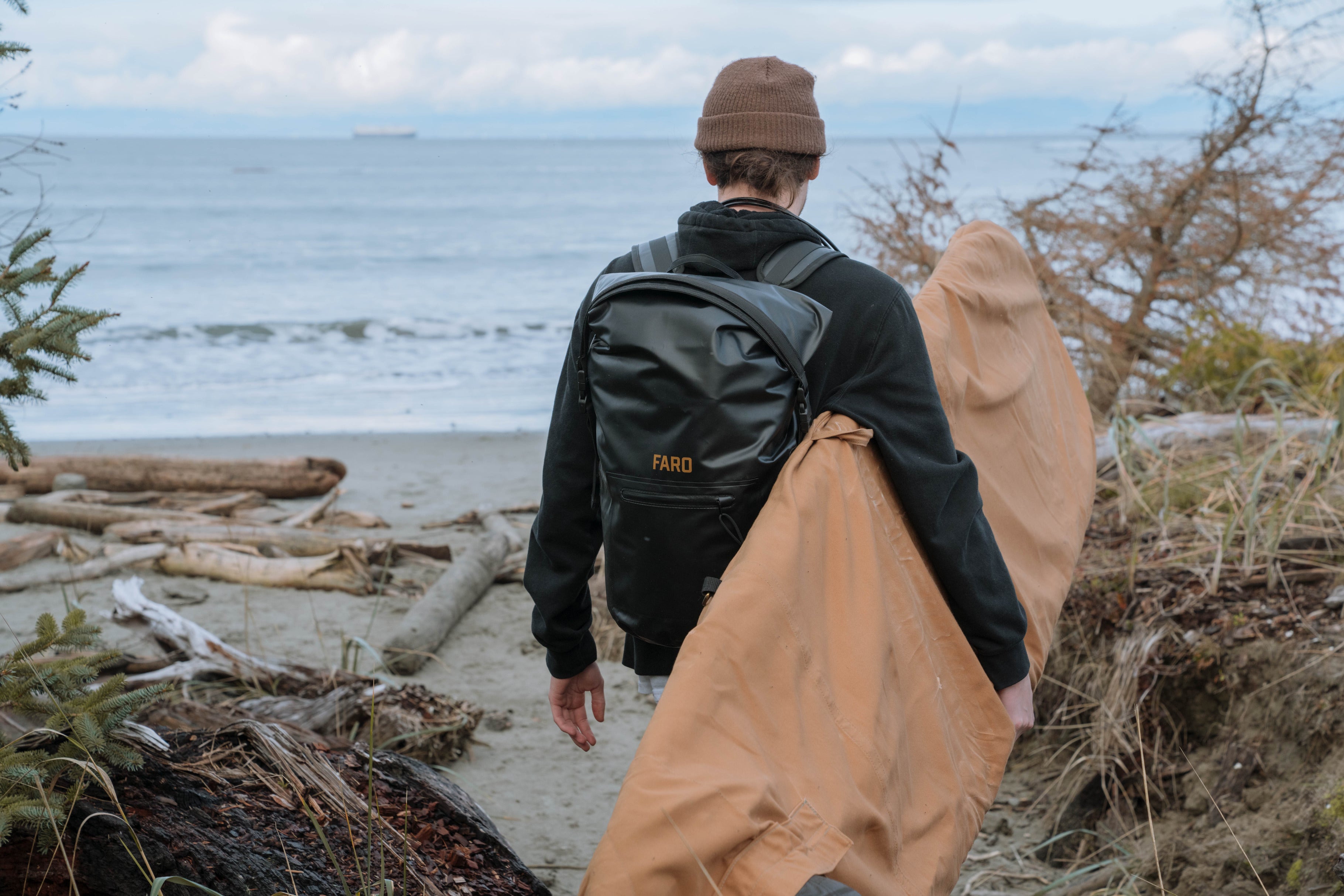 Surfboard Socks vs. Bags - Which One is Right for Your Board?
Surfboards are an investment. And if you're smart, you protect your investments so they can grow with you over time. The best way to protect your board is with a surfboard bag or sock.
But in the battle of surfboard sock vs. bag, who wins? Which one should you choose? Is one better than the other? 
We're going to answer all of those questions for you. We'll break down all of the difference between bags and socks: the materials, size & fit, best uses, and costs for each one. And by the end, you'll know exactly what's right for you and your quiver. 
Surfboard Bag vs. Sock - What's the difference?
Sometimes it feels like the world is out to get your surfboard. And between the random cracks, dings, and sun damage, it might actually be. 
You have to protect your surfboard – that's a non-negotiable. But having to choose between surfboard bags, socks, coffins, and travel bags isn't something that should delay you from buying the right protection. So if that's you, listen up. We're breaking down the exact differences between surfboard bags and socks. 
Surfboard Bags
Surfboard bags vary between manufacturers, but they all do the same thing – protect your surfboard from minor cracks, scratches, and UV damage while you're on your way to the local break or another far-out destination. Here's what to expect when shopping for your next bag. 
Materials
Surfboard bags are traditionally made from a cheap polyester material with a bit of extra padding around the nose. Most bags are equipped with a zipper closure system, but those zippers break more often than the boards themselves.
At Faro, we make our surfboard bags from 600d recycled polyester canvas, which is more rugged than the reflective poly material you are used to seeing. And just to make sure the zipper doesn't break, we got rid of it entirely. Our bags utilize a roll-buckle closure system that gives you up to three extra inches of storage space. 
They're also waterproof and heat resistant, so you don't have to worry about mold growing or wax melting in your bag.  And even more importantly, you won't get wax all over your car seats. 
Size & Fit
Board bags fit true to size. If it's a 9 foot bag, you won't be able to squeeze your 9'2" noserider in there. It's not happening, trust us. You'll need to size up at least to a 10' bag to make sure it fits properly. 
Fin, Leash, and Wetsuit Accessibility
Normally, if you buy a 6 foot bag for your 6' surfboard, it's pretty much a coin flip on whether or not you'll be able to zip it shut with the fins on. Read through the customer reviews before you buy to see if anyone can answer this question about a particular bag. 

We'll save you the trouble – a 6 foot Faro bag fits your 6' shortboard with the fins still on. That's why we built the roll-buckle closure system. And for all you longboarders out there, even you can keep your fin on. Most board bags have built-in fin slits for large single fins, Faro longboard bags included. 
If your fins fit, you're probably not worried about your leash. Obviously, it will fit too. But it's worth noting that the leash velcro won't stick to the canvas material whenever you pull your board out. It might not seem like a big deal, but it's more annoying than you might think. 
You can throw your wet wetsuit in there too, the waterproof lining will make sure no water leaks out on your clothes or in your car. 
Use
Surfboard bags are built to handle day-to-day adventures, plus some. They'll protect your board from dings, cracks, and any other accidents that happen while you're chasing waves. They'll also protect it from harmful UV rays, which cause yellowing over time. And they're made to be worn with a shoulder strap, turning the laboring chore of carrying a surfboard into an enjoyable experience.
If the only two places that your board lives are in the ocean and in a Faro surfboard bag, it's going to last a lifetime. But if you need a bag to travel through airports and across continents with, you'll need a coffin bag for total protection. 
Costs
Surfboard bags generally cost between $100-150, depending on the brand and the quality. It's a small price to pay to protect your $600+ board. And if you're planning to use one bag for multiple boards, then buying a bag is a no-brainer. It's an investment in your quiver; and a good one at that. We saw that value in one bag for multiple boards, which is why all Faro canvas surfboard bags adjust to fit your exact board size.  
Surfboard Socks
Generally speaking, surfboard socks are less protective than surfboard bags. But depending on what you're looking for, that might not be a problem. Here's everything you need to know about board socks. 
Materials
Surfboard socks are made from a soft, stretchable cotton-knit blend. They're typically a bit thinner than bags, usually only 2-3 mm, with a bit of extra padding near the nose. 
Because of the cotton construction, they're not waterproof. If you leave it out in the rain, you have two options – hang dry or machine dry. The material won't shrink in the dryer, so this is a solid option if you're in a rush. 
You know how you're not supposed to wear cotton when you go hiking? It's not moisture-wicking, odor-resistant, or quick-drying. The same applies to surfboard socks – they hold moisture, leaving you with a nasty-smelling drive home from the break. And if you don't wash it, there's a good chance you'll wake up the next morning with mold in your bag. 
Fortunately, the cotton material is UV-resistant, so your board won't yellow in a sock. However, the inside of socks are hot, so it's common for wax to melt if it's out in the sun too long. It won't dirty the inside of your rig but you'll have to re-wax your board next time you paddle out. 
One last note about the materials…surfboard socks are built with a drawstring closure for easy access to your board. Slide your board in and tighten up the drawstring to lock it in place, then loosen it when you're ready to head out. This may seem almost too simple. It is, that's why the drawstring closures rarely ever break. 
Size & Fit
Unlike surfboard bags, socks are meant to be flexible. So if you buy an 8' sock, it should comfortably fit your 7'6" funboard and your 8'3" mid length. As a general rule of thumb, surfboard socks can stretch an additional 3" past their listed size. But don't be fooled, the stretch takes away from the durability of the material, causing it to rip & deteriorate faster.   
Fin, Leash, and Wetsuit Accessibility
Surfboard socks are made to be stretchable, so you can leave your fins on. But if you're already stretching it near that +3" mark, you might have to remove the fin in order to close the drawstring all the way. 
As far as leashes and wetsuits are concerned, socks are a different story. A wet wetsuit is going to soak the cotton material, which means you'll have to dry your sock after every session if you plan to carry your suit in it. The cotton is also a magnet for leash velcro. You'll pull your entire board out and the leash will be stuck halfway down the bag. Like we said earlier, it's not a huge deal but it gets annoying after a while. 
Use
Surfboard socks are typically enough protection for daily use. If you're just walking or biking down to your local break, a sock will keep it safe from cracks, dings, scratches, and sunlight. It's also more than enough for a short drive up the coast. 
Costs
Surfboard socks are cheaper than bags, usually in the range of $40-70. Cheaper in price & lower in protection, board socks serve their purpose for short periods of time but often need to be upgraded, especially if you surf every day. Board socks aren't necessarily a bad option; but remember, lower price means less protection. 
Surfboard Bag vs Sock – Which One Should You Get?
Whether you decide to protect your surfboard with a bag or sock is up to you. It really depends on your budget, needs, and expectations. But if you're looking for guaranteed daily protection, Faro surfboard bags are the way to go. They'll keep your quiver safe from the day-to-day, on far-out adventures, and everything in between.