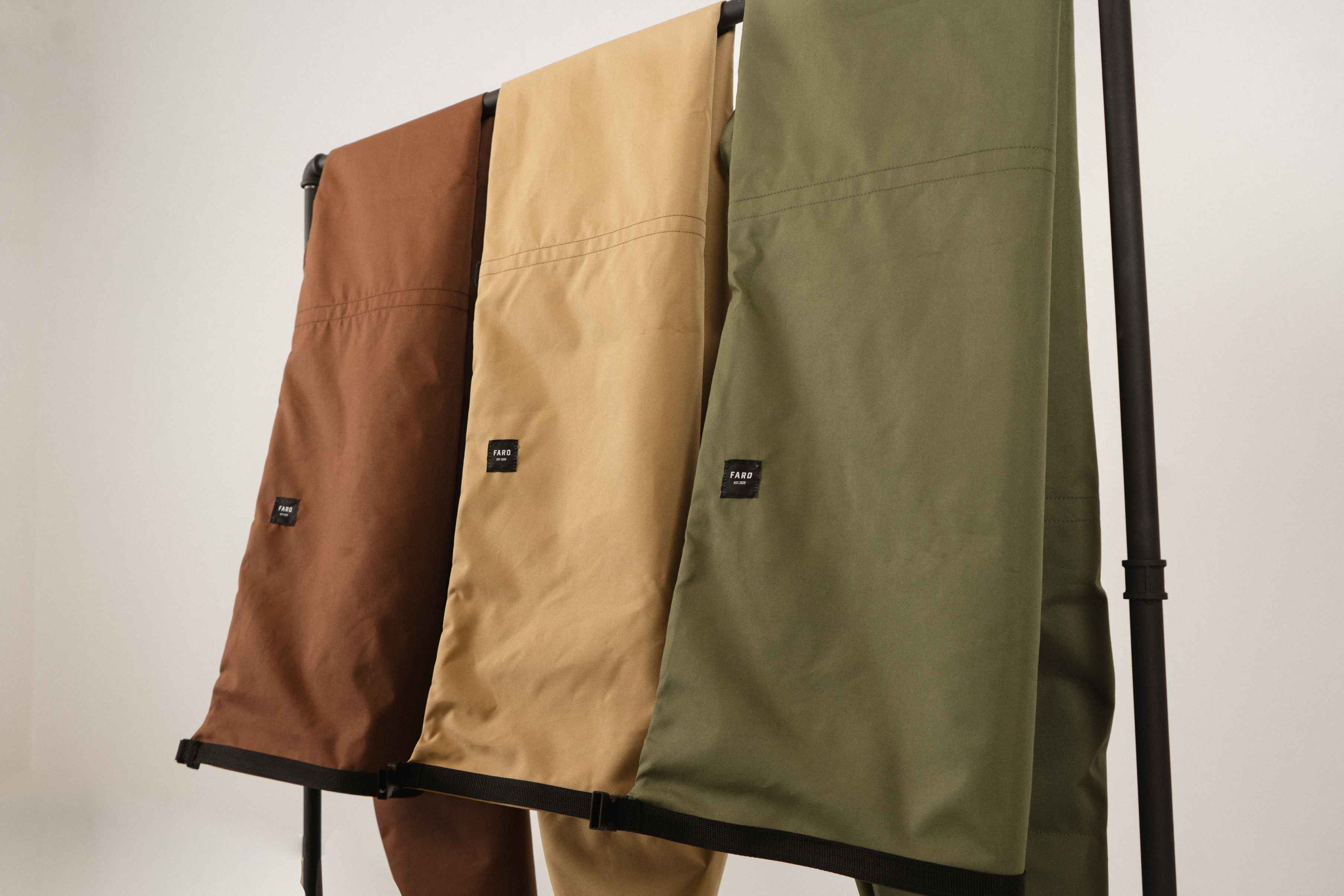 Your Guide to the Different Types of Board Bags
After you invest in a new surfboard, the second thing you need to buy is a board bag. Unless you want to risk cracking or dinging your favorite toy, a board bag is a necessary part of your quiver. 
But with so many types, sizes, and materials available, you may find it difficult to pick just one type of surfboard bag. Your search for the perfect bag ends here.
We've broken down the different types of board bags, the pros & cons of each, average costs, and best uses for each. But let's start with the most obvious question. 
What type of surfboard bag should I get?
With a few different types of board bags available, you may be wondering which one is right for you. Do you really need all that protection just to walk to your local beach break? Alternatively, is a board sock going to cut it for international travel? 
The answer to both of these questions is obviously no. But those are two extreme examples, and there's plenty of room for debate. But before we break down the different types of board bags, let's get one thing clear: you absolutely need a board bag to protect your surfboard. 
Now, let's get into which type you need – there are a few things you need to consider. 
Use
If you're in the market for a surfboard bag, chances are you recently bought a new board or are gearing up for a trip. Or maybe you thought you didn't need one; and now you're shopping for one while your local shop repairs the fresh ding. In any case, the primary purpose of a board bag is protection. But the level of protection you'll need on a day to day basis compared to a strike trip to Central America varies quite a bit.
For day to day and weekend adventures, you don't need a ton of protection for your board. Outside of the water, the board will be in your control most of the time. And assuming you secured the bag and board safely to the top of your rig, you won't have to worry about any fresh cracks, dings, or scratches. You can use a day bag or sock that's light enough to throw over your shoulder while protecting the precious cargo inside. 



If you're taking a surf trip with your buddies and flying across the country or to another country, you'll need far more protection than a day bag can offer. Between airport staff casually throwing your quiver around like cold beers around a bonfire and suitcases shifting during takeoff and landing, a lot can happen to your boards. The best way to make sure your boards are in one piece when you arrive is with a coffin bag, the most heavy-duty option for surf travel. 
Size
Once you decide on a type, it's time to pick a size. But what size surfboard bag should you get? It's actually pretty simple.
Most day bags only fit one board at a time – this makes it easy. Make sure the bag is at least the same length as (or a few inches longer) than your board. 
If you're shopping for a travel bag, you're probably planning to pack a small quiver. Choose a bag that's a few 3-4 inches longer than the longest board you plan to pack. 
One thing to note, not all 6 foot bags are exactly 6' long. Some brands may design them so they're exactly 6', meaning you'll probably have to take your fins off if you're planning on storing your 5' 11" or 6' performance board in it. This isn't ideal if you want a bag for daily use – you don't want to take your fins on & off between every session. 
But don't you worry, a  6' Faro bag will hold your 6' board with the fins still on. We built a unique, non-zippered closure system just for that.
And even though there's just a large, single fin to worry about, longboarders still need a bag for their log. Most longboard bags come with a fin slit for this exact reason, Faro is no exception. Even still, some covers don't come with a fin slit, meaning it won't fit your hand-shaped noserider and that beautiful, glassed-in fin. Make sure to double check if it has a fin slit before buying or get used to using a fin key. 
When it comes to board bags, length matters. But one dimension that everyone forgets is width. If you're riding a super fat 5'6" fish, it's highly unlikely that you'll be able to fit it in a similarly-sized board bag. Make sure to always check the length and width before you buy. 
Materials
Board bags are made from all kinds of materials, though canvas, polyester, cotton-knit blend are the most common. There are pros and cons to each; here's a quick breakdown:
Canvas - for day bags


Polyester - for day bags and travel bags


Cotton-knit -

for board socks
Each of these materials serve their own purpose based on the level of protection they offer. The material will largely be dictated by the type of board bag you need. 
Types of surfboard bags
We've hit you with the highlights of each major bag type so far. If you're still unsure about which one is right for you, this should clarify things for you. 
Day bag
Day bags are designed for day-to-day adventure. This means dawn patrol sessions before work, weekend trips with your friends, and those sunset sessions that never seem to get old. Day bags protect your board from small, routine accidents like bumping against your car or accidentally dropping it on the ground. 
They're great if you're walking down to the beach, throwing it on your roof or bike rack, or even taking public transport. And, they're waterproof and UV-resistant. So when you throw your wet towel or wetsuit into the bag after a session, you won't have to worry about any leakage. Nor will your board yellow if left out in the sun. 



Most day bags have a zipper closure system. These tend to break when you overpack, so we built ours with a roll-buckle closure system that won't fail when you need it most. 
If you're in the market for one of these, it will cost you somewhere in between $100-200.
Board sock
Surfboard socks are a cheaper, less protective option for daily use. Made from a stretchy, cotton-knit blend, they're only 2-3 mm thick. It might be enough to keep your board safe around the house, but it's not much if you're venturing off to a new break or through a busy city.
Now onto the details. 
The cotton-knit material is stretchy enough to fit multiple board sizes, even if the board is slightly bigger than the size of the sock. So you can use the same sock for your 7'6" bonzer and 8' funboard, it will fit over both. 
Like other covers, socks are UV-resistant, protecting your board from excessive sunlight and subsequent yellowing. But be careful; if you leave a bar of wax in the bag while it sits out in the sun, it's going to melt all over your board and the inside of the sock. One last thing; unlike traditional covers, socks are equipped with a drawstring closure instead of a zipper. Despite its simplicity, it's less likely to break than a zipper. 
Board socks are the cheapest option available, usually no more than $50-80. 
Travel bag
For strike trips and long-haul flights, day bags and socks aren't going to cut it. You need a coffin bag unless you want to spend the first day of your trip shopping for a new board. Coffin bags are several inches deep, equipped with thick padding, dividers, extra storage, and wheels to roll it through airports. 
These are made for ultimate protection. And though you can't control what happens to your oversized luggage after you drop it off, coffin bags are your best chance of safely transporting your bags via airplane. We even recommend using towels, pool noodles, and wetsuits for extra padding, just to be safe. 
Between oversized luggage fees and the cost of a travel bag, these will cost you a pretty penny. But $200-300 is a worthwhile investment to protect your quiver from airport mishaps. 
Tips for buying a surfboard bag
Ultimately, the type of board bag you need will depend on your needs, board shape & size, and budget. 
But ask any surfer and they will tell you: don't just choose the cheapest option. In the long-run, spending an extra $100-200 to protect your $600-1000 board from cracks, dings, and scratches is well worth the investment. And if you're looking for the best surfboard protection for far-out adventures, pick up a
Faro board bag
.